By: Joe Mandato
|
March 8, 2018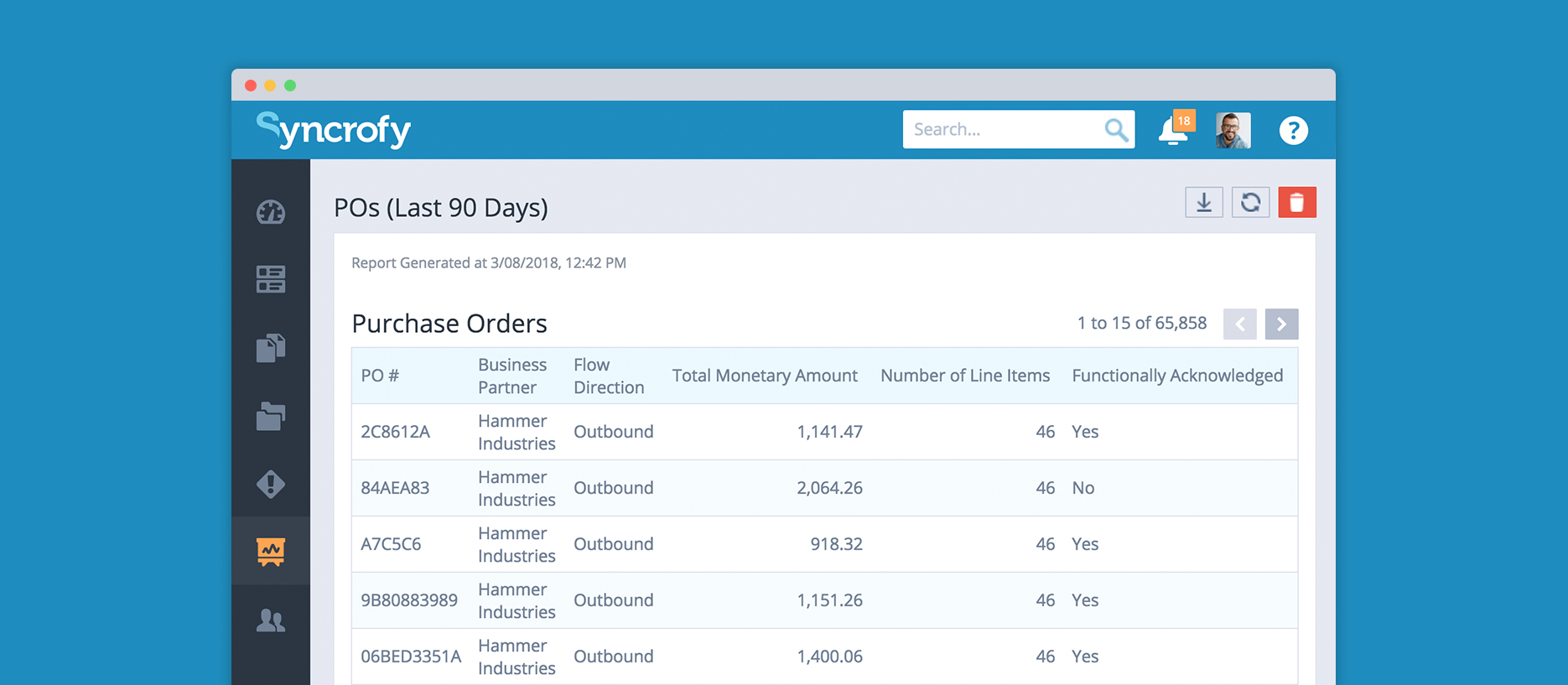 We want to make it simple for you to learn about the power of Syncrofy's features and all the ways it can help you get the most out of your EDI data. That's why our "Syncrofy 101" series of posts will highlight a specific task in Syncrofy and illustrate how easy it is to carry out. In this post, we'll examine how to work with Reports, when you would want to use one, and how to set up a template and run the report.
In our last installment, we took a look at one of the ways Syncrofy enables you to analyze your data—through dynamic visuals with Dashboards. However, if you wish to extract that data from Syncrofy and use it to make proactive adjustments to your B2B processes, you'll want to take advantage of the Reports feature.
When to Use a Report
Reports enable you to take your data from Syncrofy, download it, and present it in a specific way to answer a business question. By doing so, you'll obtain a "snapshot in time" of your data, a downloadable artifact that does not change.
For example, you may want to create a report to display all of the invoices for a particular month so you can compare it to a previous month. Alternatively, you might want to run one to display all of the business documents you've processed over the last week to track a missing document.
There are over 40 different datasets you can base your report on and you can sort that data in several different ways. Some of those datasets include:
All Business Documents
Exceptions
Files
Functional Acknowledgment
Invoices
Purchase Order
Remittance Advice
Partner Contacts
...and many more
We mentioned how reports are "snapshots" that do not change once you create it. That said, you have the ability to re-run a report to obtain the most current "snapshot" of up-to-date information. Let's say you run a report to list all of the unacknowledged document types. You might take that data and work on your process for a week to remedy the issue. Now, you can simply re-run the report to track your progress.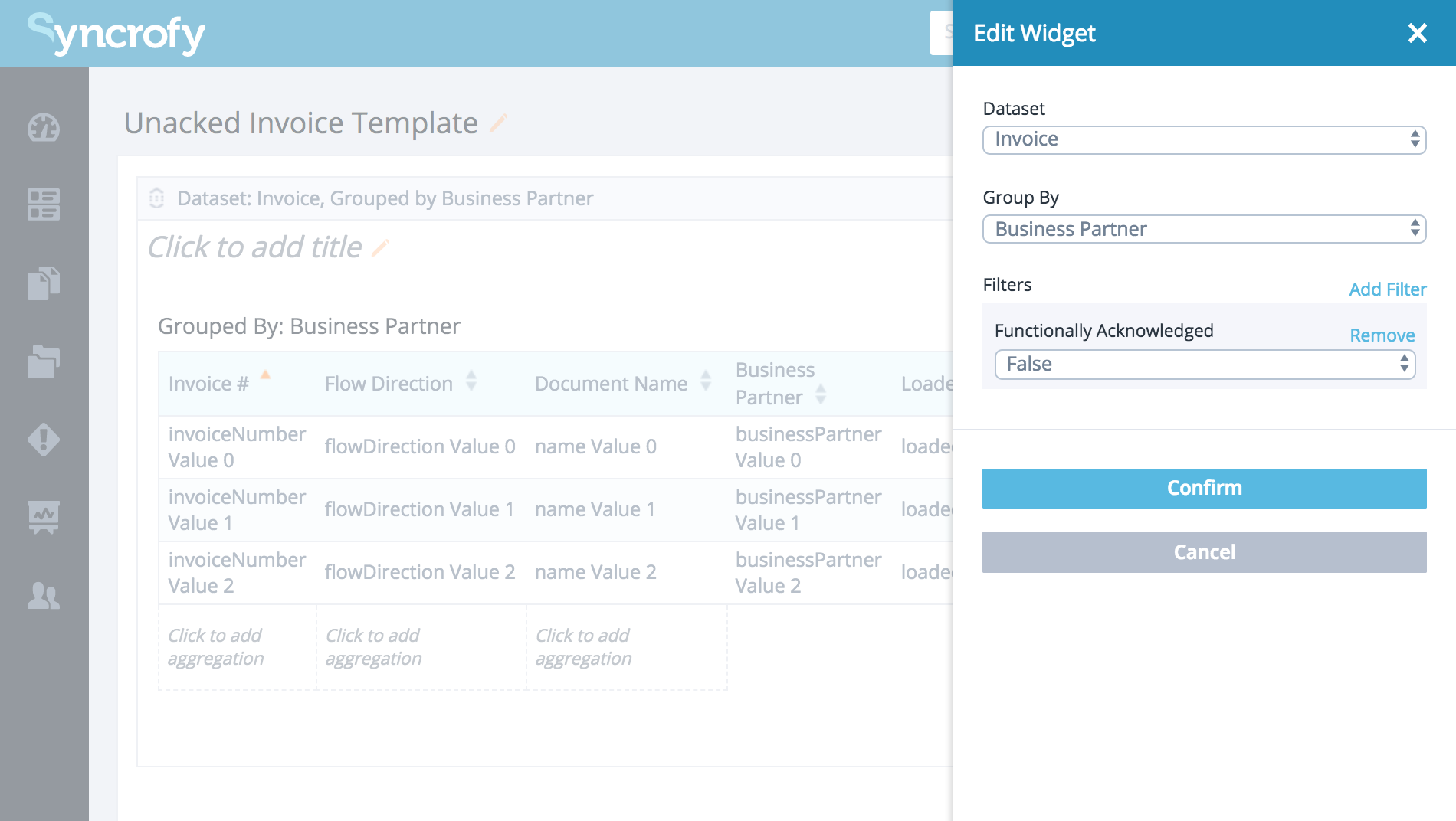 Setting up a Template
The first step is creating a report template that will be used to generate your report. Templates can be customized to highlight specific datasets to meet your exact business needs. This can be achieved by simply clicking the Create New Template button on the Reports Template screen.
Once you do that, Syncrofy will walk you through the process and you'll choose the dataset you want to analyze in the report and how you want it to be sorted (Group By). Some of the options include:
Flow Direction
Business Partner
Document Date
Loaded On Date
You have the ability to tailor your template to your exact specifications to ensure it contains only the information you want to see. You can edit the columns in your report template by reordering, renaming, or deleting them.
You can also add aggregation to a given column. For example, let's say you have a report template with Purchase Orders as your dataset, grouped by Purchase Order Date. Under the "Total Amount" column you can choose to add an aggregation that will display the total amount (sum) of all the Purchase Orders.
The best part? You can save your customized template so you only have to create it once, then run the report anytime you want fresh data. It's that easy.

Running a Report
From the main Reports screen you can select the Run Report button, type in the name of the report, choose your template, and hit "Run Report."
Your report is generated in Syncrofy with the date and time of creation. From there, you can click on specific documents within the report to view details or you can download, rerun, or delete the report.
With Reports, you're in control of the data you want to see and how you want to organize it. It's just another way Syncrofy is helping you take charge of your EDI.
To learn more about Reports, including a step-by-step instructions on how to create and manage them, visit our Help site. To discover the power of Syncrofy, visit www.syncrofy.com.