By: Joe Mandato
|
September 6, 2017
You already know that Syncrofy's powerful data visualization tools provide your business with real-time analytics, enabling you to make faster, more well-informed decisions, but have you ever wondered how Syncrofy manages and secures your data? Turns out, we've got you covered there, too!
Syncrofy's hybrid cloud architecture guarantees that your sensitive information is never stored on our servers. Data is processed within your local agent, transmitting a small segment back to Syncrofy for reference purposes, ensuring that you can retrieve it when you need it most.
Additionally, our infrastructure team runs daily operational security checks to be proactive and minimize vulnerability, while monitoring the entire production system 24/7 for internal network traffic, employee actions, and vulnerabilities. You can rest easy knowing that your critical files and data are secure and protected at all times.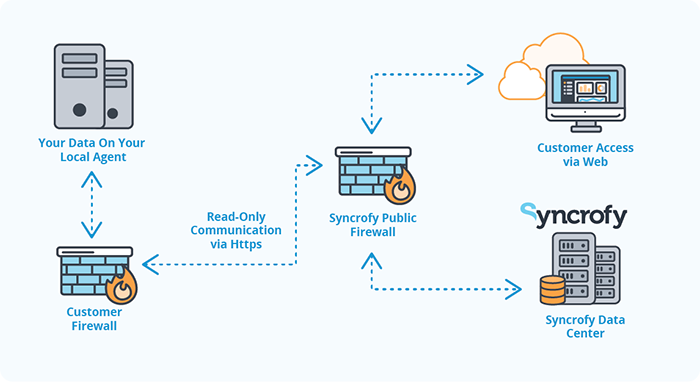 Security is even written into Syncrofy's DNA. When developing Syncrofy, we began with the network's core and focused on utilizing best-of-breed technology. Our data centers are SOC3, ISO27001, and HIPPA compliant and we leverage only bare-metal cloud servers, firewalls, and a private cloud infrastructure to ensure our workloads are never shared with other companies, and that your data doesn't co-mingle with other companies.
There's no mapping or complex system-level integration with Syncrofy. It takes the complexity out of integration by analyzing your data and providing the tools required to suit your business needs. In other words, you provide your data and Syncrofy will provide everything else. Syncrofy also works within your preexisting architecture to ingest EDI data from a variety of platforms, eliminating the need for multiple systems and centralizing business visibility to a single tool.
Bottom line? Syncrofy's hybrid architecture ensures that you maintain control over your data while maximizing real-time visibility and strengthening security.
After all, your data belongs to you. And with Syncrofy, you can rest assured it stays that way.
To learn more about Syncrofy's hybrid architecture, please check out our white paper, and for more information on the power of Syncrofy, please visit www.syncrofy.com.