By: Gary Walsh
|
November 16, 2017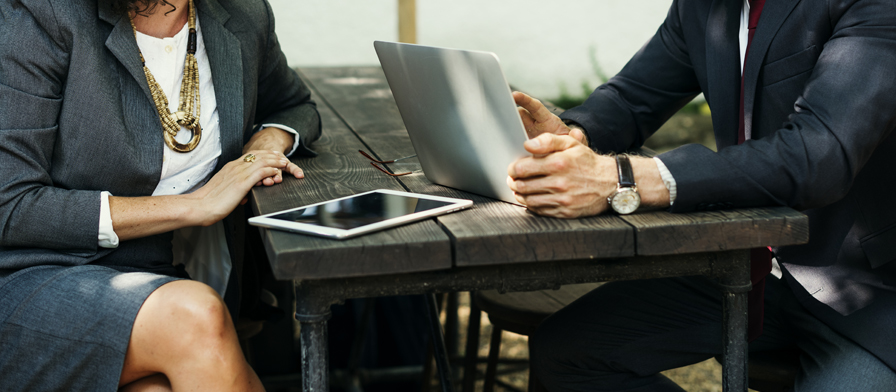 It's no secret that maintaining regulatory compliance is a top concern for firms in the financial industry. In fact, according to research, spending on regulatory technology (regtech) will grow by an average of 48% per year over the next five years, as banks seek to avoid costly regulatory fines (1). Tasks like effective record keeping, document and record retention, and analysis and reporting are so vital and any discrepancy, no matter how minor, can result in significant financial ramifications.
That's why it's important to have a tool that can help you manage those issues and make your life easier.
Syncrofy allows you to gain enhanced visibility into your files and data, enabling you to analyze and act on financial transaction data faster and more effectively.
We realize the importance of record keeping and retention and how any misstep can cost your organization. That's why Syncrofy's data retention feature allows you to control how much information you're seeing and how far back you want to search, allowing you to respond quickly to any request.
Want to go back and analyze data or track down a transaction from six months ago? A year? Two years? It can all be done at the click of a button.
Additionally, the Timeline view provides a fully auditable way of tracking financial data that promotes transparency and accountability while making it easier for your team to find the information they need in the future.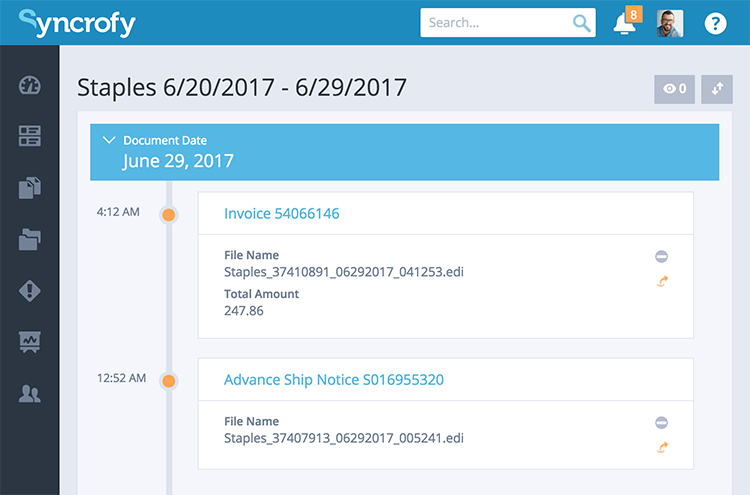 Syncrofy's customizable dashboards and reports allow you to see all of your transactions in a searchable, easy-to- read format. While real-time monitoring ensures you're working with the most recent data, enabling you to make fast, accurate decisions.
Alerts and notifications help you maximize the effectiveness of your business processes and teams, both internal and external. You can also set up rules to automatically monitor your business processes for errors and receive contextual alerts on SLA exceptions and other issues, allowing you to avoid delays before they arise.
Want to collaborate with your partner organizations? That's simple, too.
Syncrofy allows you to invite financial partners to utilize the same easy and configurable visibility tools you use, allowing you to securely share information, compare data, and solve problems before they become larger issues.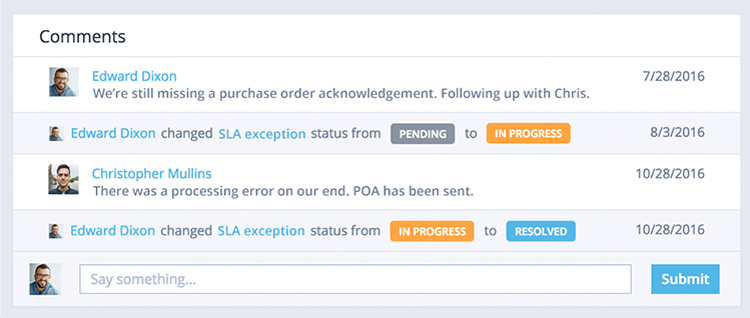 Concerned about security? No sweat.
We understand that you're handling sensitive financial data on a daily basis. That's why Syncrofy's hybrid cloud architecture guarantees that information is never stored on our servers. Data is processed within your local agent, transmitting a small segment back to Syncrofy for reference purposes, ensuring that you can retrieve it when you need it most.
Our infrastructure team also runs daily operational security checks to be proactive and minimize vulnerability, while monitoring the entire production system 24/7 for internal network traffic, employee actions, and vulnerabilities.
You can rest easy knowing that your critical financial files and data are secure and protected at all times.
To learn more about Syncrofy's hybrid architecture and security, please check out our white paper, and for more information on the power of Syncrofy, please visit www.syncrofy.com.
References
1. Compliance Costs To Lift Regtech Spending To $76 Billion By 2022 - https://which-50.com/compliance-costs-lift-regtech-spending-76-billion-2022/