By: Sam Diament
|
December 26, 2017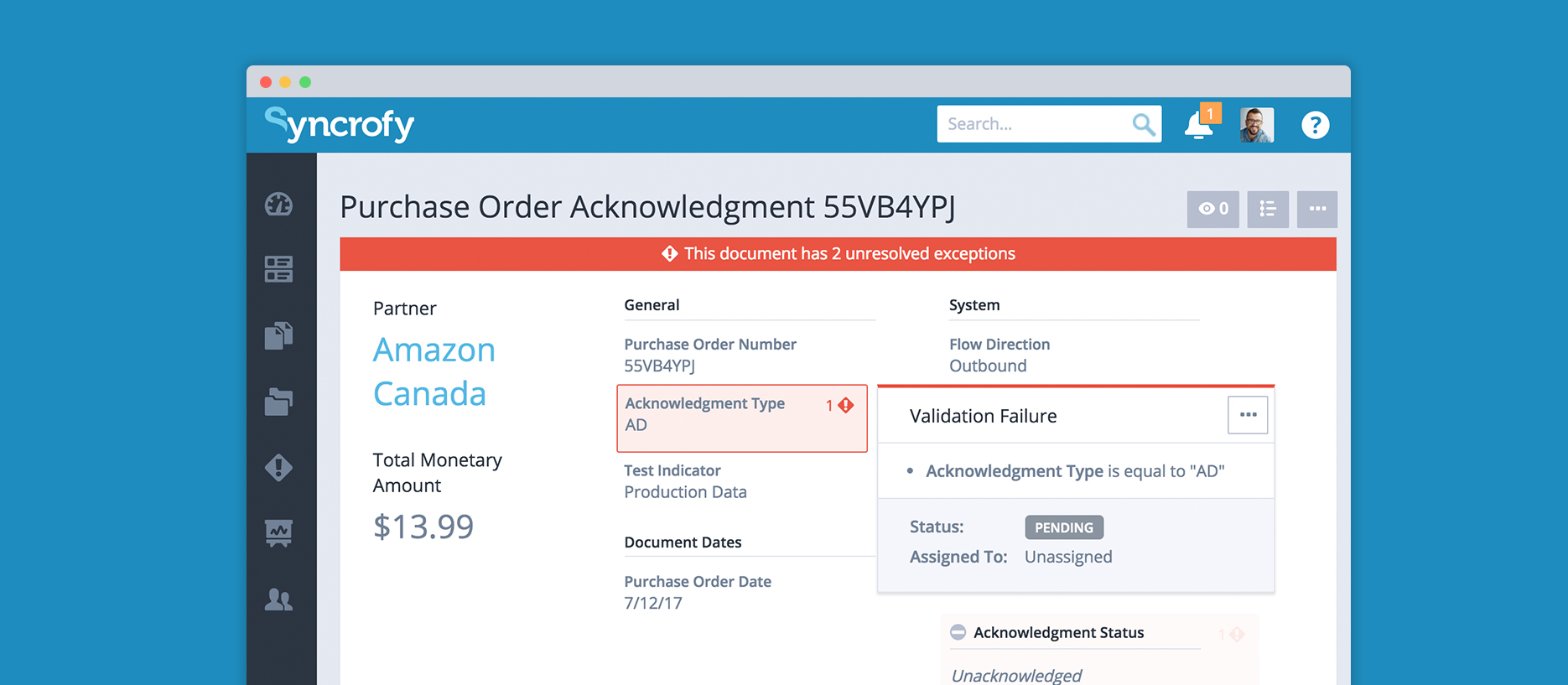 We know that catching discrepancies within your EDI data before they become major headaches is critical to the health of your business. Our "Proactive vs. Reactive" series of posts will examine how Syncrofy's various features help you stay on top of your operation to identify data inconsistencies that may require extra attention and promote accountability within your team. Here, Sam Diament, one of our Syncrofy implementation managers, takes a deeper look at exceptions.
We recently let you in on the shocking fact that companies who use EDI typically spend 3-5% of their top line revenue to pay for chargebacks, penalties, and other fees. This is primarily due to the lack of proactive monitoring of late payments or shipments.
For most businesses, these transactional processes end up being a messy, convoluted nightmare that costs tons of money and creates major headaches.
But with Syncrofy, that kind of stress can be a thing of the past.
Syncrofy's Exceptions allow you to set up rules to automatically monitor for errors and receive contextual alerts on SLA and value exceptions, allowing you to take action before they become major concerns.
For example, not receiving a payment from a trading partner can be extremely troublesome and if not discovered early can be a huge time-waster for your team while attempting to track down the money and resolve the issue.
Using Syncrofy, you can set up a value exception to alert you when you receive an Application Advice (824) document that contains a "Purpose Code" of 34 (Payment Declined).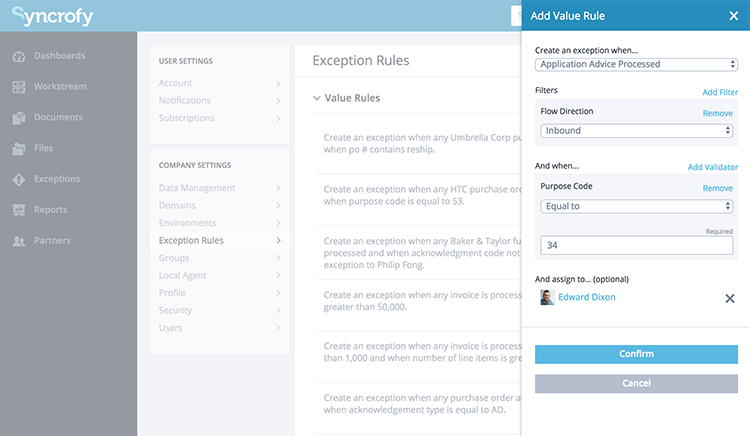 Whenever money is involved, you want to take action immediately. Now, you can do that directly on the Exceptions screen to obtain full visibility into the situation. View who the exception is assigned to and change the status to "Pending," "In Progress," or "Resolved" so everyone on your team knows exactly what's happening.
You can also enter comments within the exception. For example, after fixing the issue, you can type in a comment on that document that says "researched the issue, resent the invoice, and received payment." Then you would mark the Exception as "Completed."
Now, you have a full audit trail of what issues were corrected and when it happened. This is particularly important for preventing redundant work, or taking on issues that have already been rectified.
It's not only 824s you can monitor for. You can also set up value exceptions to alert you on:
Rejected documents - Inbound Functional Acknowledgements (997) indicating there's an issue with a document you sent a trading partner
Specific code queries - Documents received that are not meant for production (e.g., Purpose Code of "22" instead of "00"
Specific strings - Querying for a text field (PO Name or Invoice Number field)
Number of line items - Get notified when a document exceeds a certain number
Specific dollar amounts - Monitor for irregularities and invoices that come in over $1MM or $0
It's just as easy to configure SLA exceptions (time-based) to notify you when you follow-up documents have not been sent to your trading partner.
For example, let's say you need to send an advance ship notice (856) to Amazon but for whatever reason, it slipped through the cracks. You don't want to be hit with a chargeback if it's not sent to them within 24 hours.
With Syncrofy, it's easy to set up an SLA exception to help you be proactive when it comes to these types of situations. Simply configure the system to alert the appropriate user when an 856 has not been sent within 24 hours, and you're done.
SLA exceptions are essential because you only have to create the SLA rule once for it to be recurring and they are completely configurable. For example, you can set it up for a particular trading partner or all of your partners. You can also set it up for various types of EDI documents within a Timeline and customize it to meet your specific business needs. The choice is yours - whatever the variable, you're always protected with Syncrofy.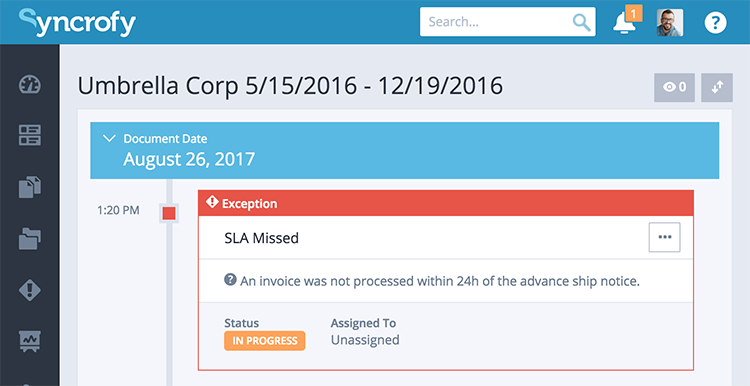 Let's take it a step further and say it is eventually sent but comes back "rejected." This is just as costly as not sending one because you will still get hit with a chargeback. For this instance, you can create a value exception in Syncrofy to alert you when there is a rejection (or an 'R' in the acknowledgment code).
In some cases you will even receive a "reason code" to notify you why the document was rejected (e.g. mismatch in number of line items). This will make it easier to drill down to identify the source of the rejection and fix the issue.
A much less-considered situation for taking advantage of exceptions would be when a trading partner sends you an unsupported document type. In this case it could be a corrupted file, a format you don't recognize, or a proprietary format (instead of an X12). For this instance, you would create a value exception for when an unsupported document type is processed to notify you when that happens.
Those are just some of the ways exceptions can help you make faster decisions, avoid costly errors, and reduce the time-related expenditures of IT by enabling you to directly interact with your EDI data.
To learn more about how Syncrofy's exceptions can help you stay proactive when it comes to your EDI data, check out our tutorial video. For more on the power of Syncrofy, please visit www.syncrofy.com.