By: Pasquale Gatti
|
December 5, 2017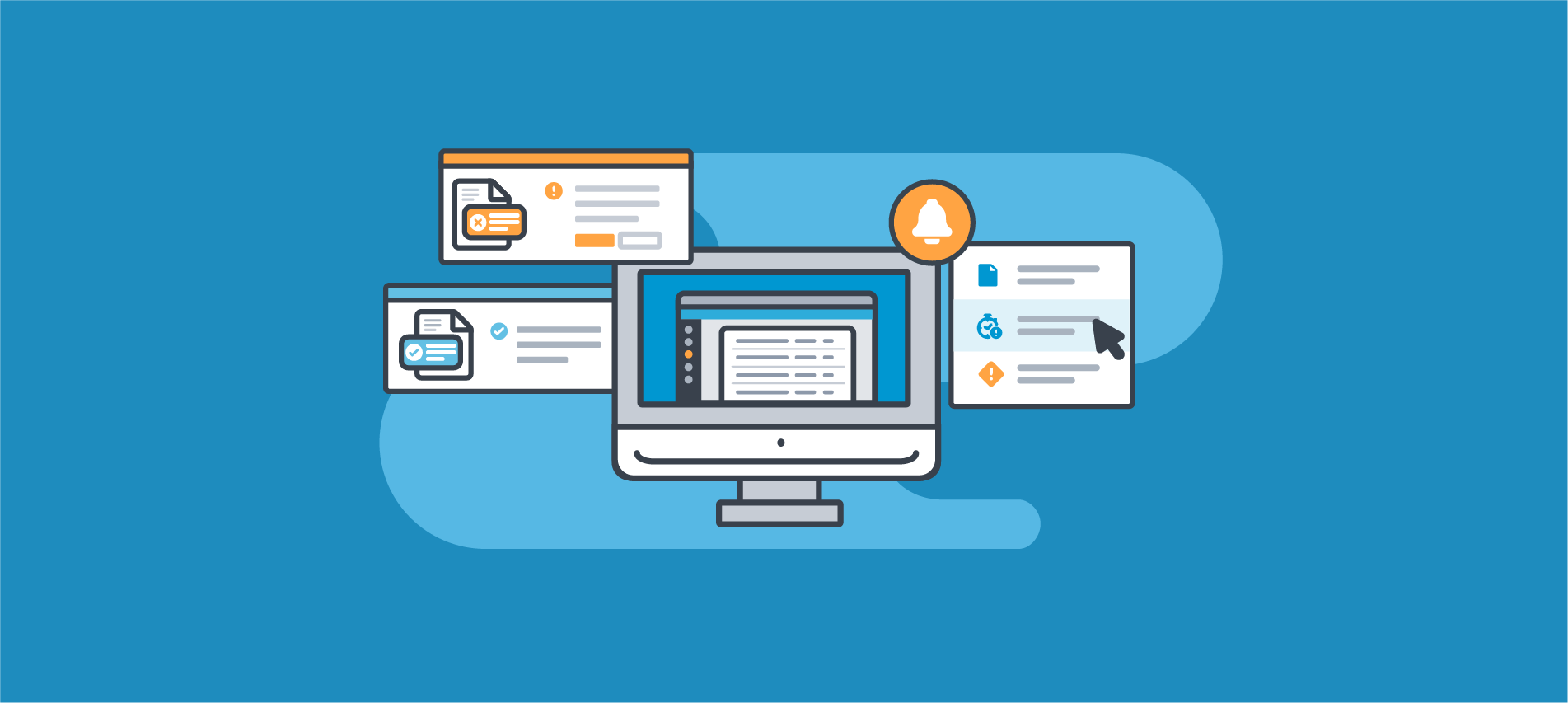 We know that catching discrepancies within your EDI data before they become major headaches is critical to the health of your business. Our "Proactive vs. Reactive" series of posts will examine how Syncrofy's various features help you stay on top of your operation to identify data inconsistencies that may require extra attention and promote accountability within your team. For this post, we'll take a closer look at alerts and notifications.
Confirming receipt of an invoice
Ensuring that a purchase order was sent to a partner
Identifying an exception to a late shipment
How many times have you wished you were able to automate these tasks without having to check on them manually? Even if you think you've got them covered, one slip-up (forgetting to check) can cost your business significant fees or chargebacks. So why take the risk?
With Syncrofy, you don't have to.
Syncrofy's alerts and notifications provide you with real-time visibility into the business processes that mattter most. You can set notifications, both in-app and via email, to alert you on document events and user activity that occur within the system, allowing you to identify and correct them before they become costly mistakes.
For example, let's say you have an outbound advance ship notice (ASN) that has yet to be sent. In most cases, you would be hit with a fee if your trading partner does not receive it within 24 hours.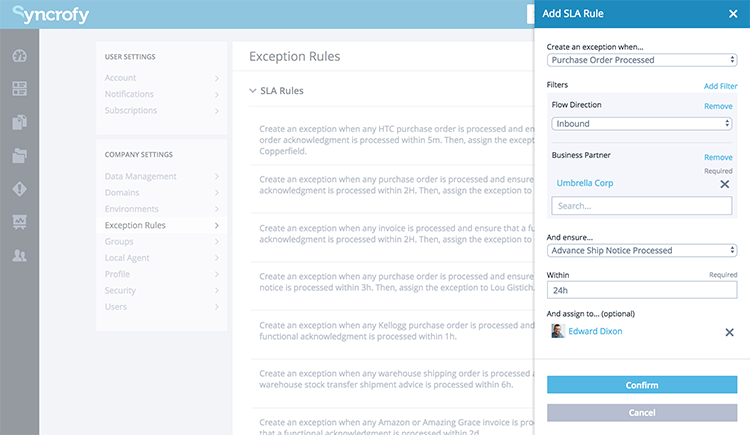 However, with Syncrofy, it's easy to set up an SLA exception to help you be proactive when it comes to these types of situations. You can configure the system to alert the appropriate user when an ASN has not been sent to a specific trading partner within 24 hours.
Congratulations! You just saved your company money.
Syncrofy also allows you to be proactive when it comes to dealing with errors that might otherwise go unnoticed until its too late. Let's say the ASN is sent but comes back "rejected." This is just as costly as not sending one because you will still get hit with a chargeback. For this instance, you can create a value exception in Syncrofy to alert you when there is a rejection (or an 'R' in the acknowledgment code).
In certain situations you may even receive a "reason code" to notify you why the document was rejected (e.g. mismatch in number of line items). This will make it easier to drill down to identify the source of the rejection and fix the issue.
One Syncrofy customer noted that they frequently had questions regarding purchase order acknowledgments (POAs) and whether one was sent out or not. That's something they could easily track with Timeline and receive alerts on.
Let's set the scene: A customer service rep in their organization was asked by their trading partner whether or not an invoice was sent out for a specific purchase order (PO).
After searching for the PO number and discovering it was not sent, they had to figure out when it would be sent. This is where the Watch feature came into play. Without Syncrofy, they had to check on this manually multiple times per day to stay updated on any changes.
However, because Watch allows you to monitor a Timeline (or document), our customer was able to receive an alert when there was a change to that Timeline's exceptions or comments. This eliminated all questions they had regarding whether a POA was sent or not, reduced the stress of constant checks, and saved them a load of time in the process.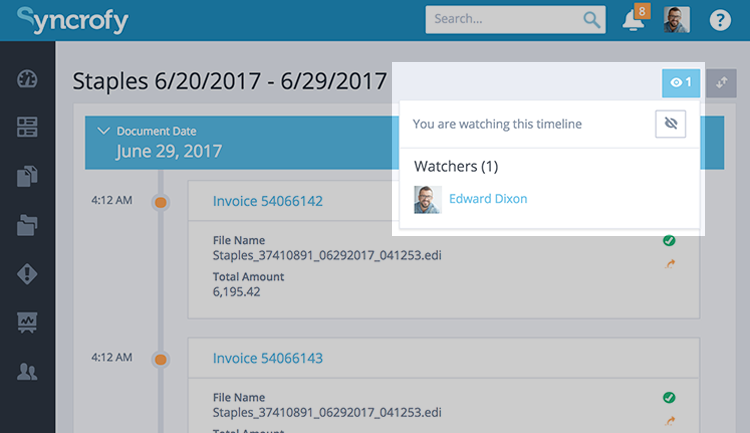 It's not only document events and processes that you'll stay updated on. You'll also have full visibility into system notifications and events specific to you in Syncrofy, including:
When a dashboard is shared with you
When a document you commented on is updated
When an exception is assigned to you
When a new user is created
When a report or report template is shared with you
When a document has an unidentified partner
The best part is, each user can customize their alerts, keeping them on top of the information that is most important to their needs.
Whether it's being notified that an invoice was sent by a trading partner or getting alerted that a member of your team replied a document comment you submitted, Syncrofy provides you with the information you need quickly, so you can take action faster and catch small issues before they become major headaches.
To learn more about how Syncrofy's alerts and notifications can help you stay proactive when it comes to your EDI data, visit www.syncrofy.com.