How Syncrofy Can Help Drive a Stress-Free ERP Migration
By: Joe Mandato | December 19, 2019
Without meticulous preparation and attention to detail, a migration from a legacy software system to a new ERP system can be a stressful task. What makes these undertakings so challenging is the fact that every part of the company is affected, which means everyone must collaborate to ensure not only a smooth migration, but that business goals are not compromised in the process. Data visibility software can be useful before and after the migration to help ensure quality and accuracy.
We recently worked with a leading packaged foods company to assist them with their ERP migration. They leveraged our EDI visibility software package, Syncrofy, to help streamline the process and view their entire business via a single system.
They used Syncrofy's Dashboards to monitor post-migration document metrics against pre-migrations baselines. They were also able to track the number of exceptions created after the migration.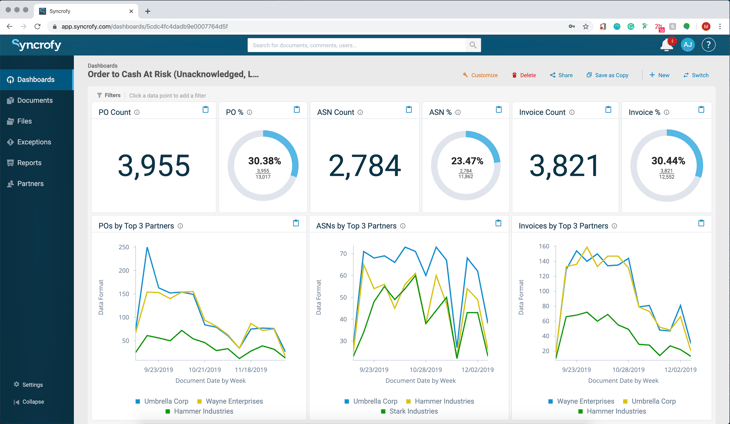 The Document Detail Screen also helped identify potential mapping issues by allowing every user to see all of the documents in the system. If it wasn't immediately viewable there, they used the Search feature to find exactly what they were looking for. Timeline views also helped them ensure every correlated document was accounted for.
The Exceptions feature in Syncrofy highlights irregularities or inconsistencies within documents and provides proactive alerts regarding data that may require extra attention. The company leveraged this feature to establish SLA Exceptions (time-based validations) to ensure all outbound documents were processed in a reasonable amount of time and that the ERP was sending to EDI.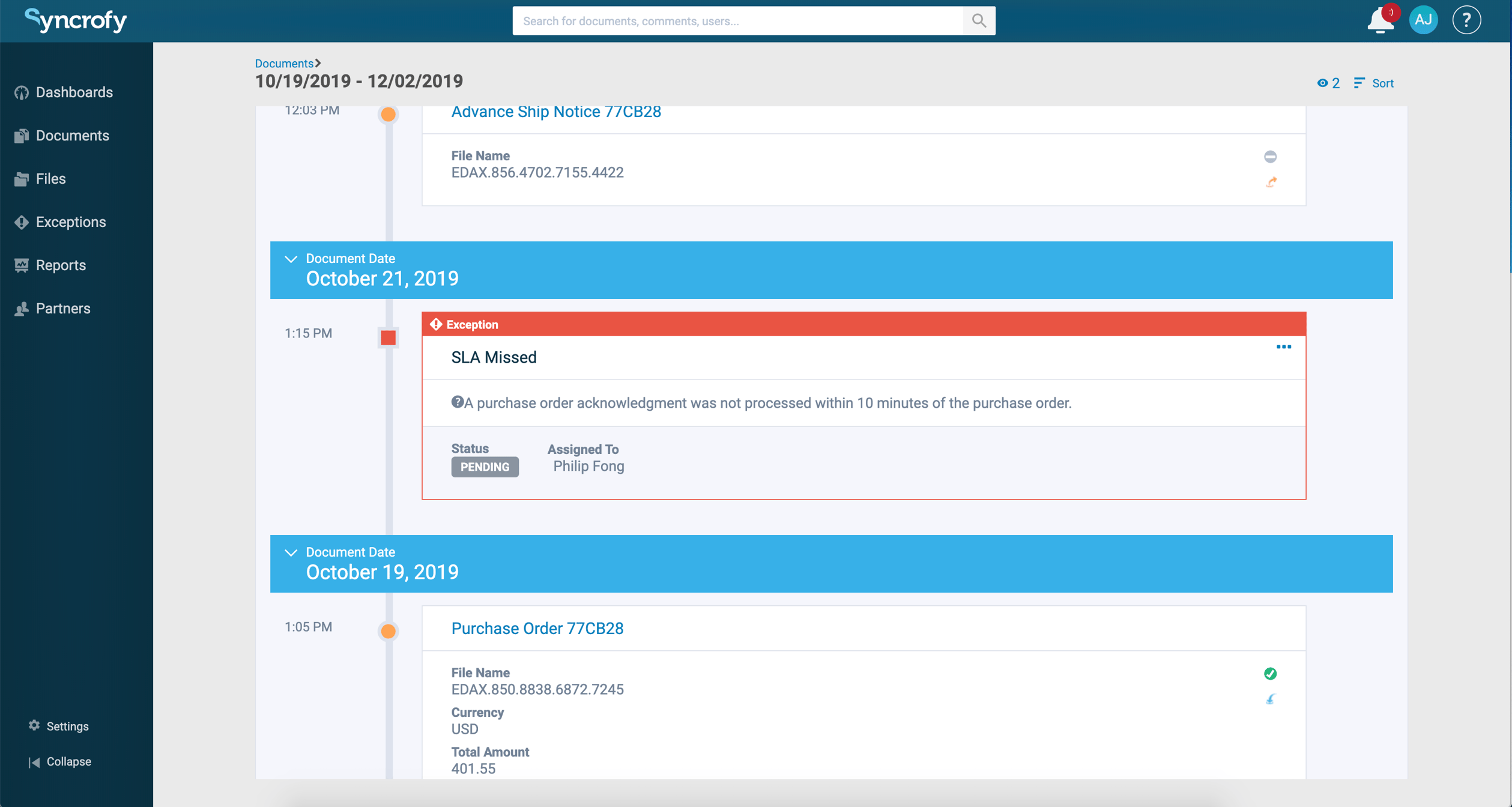 They also created exceptions for 997 (Functional Acknowledgments) rejections to ensure their partners weren't seeing more incoming errors in their data feed from Pinnacle.
Syncrofy's Reports feature was used to create reconciliation reports to ensure the EDI feeds matched what was intended to be processed. They also took advantage of Notifications to set up real-time alerts to monitor for specific documents coming from the ERP system.
Users also leveraged non-production environments in Syncrofy to test the new ERP system, helping to get them accustomed to identifying errors.
In addition, the company expanded their testing community by utilizing Partner Invites to encourage their trading partners to join in on the process. They sent data from the new ERP to their partners to get approval before the migration was finalized.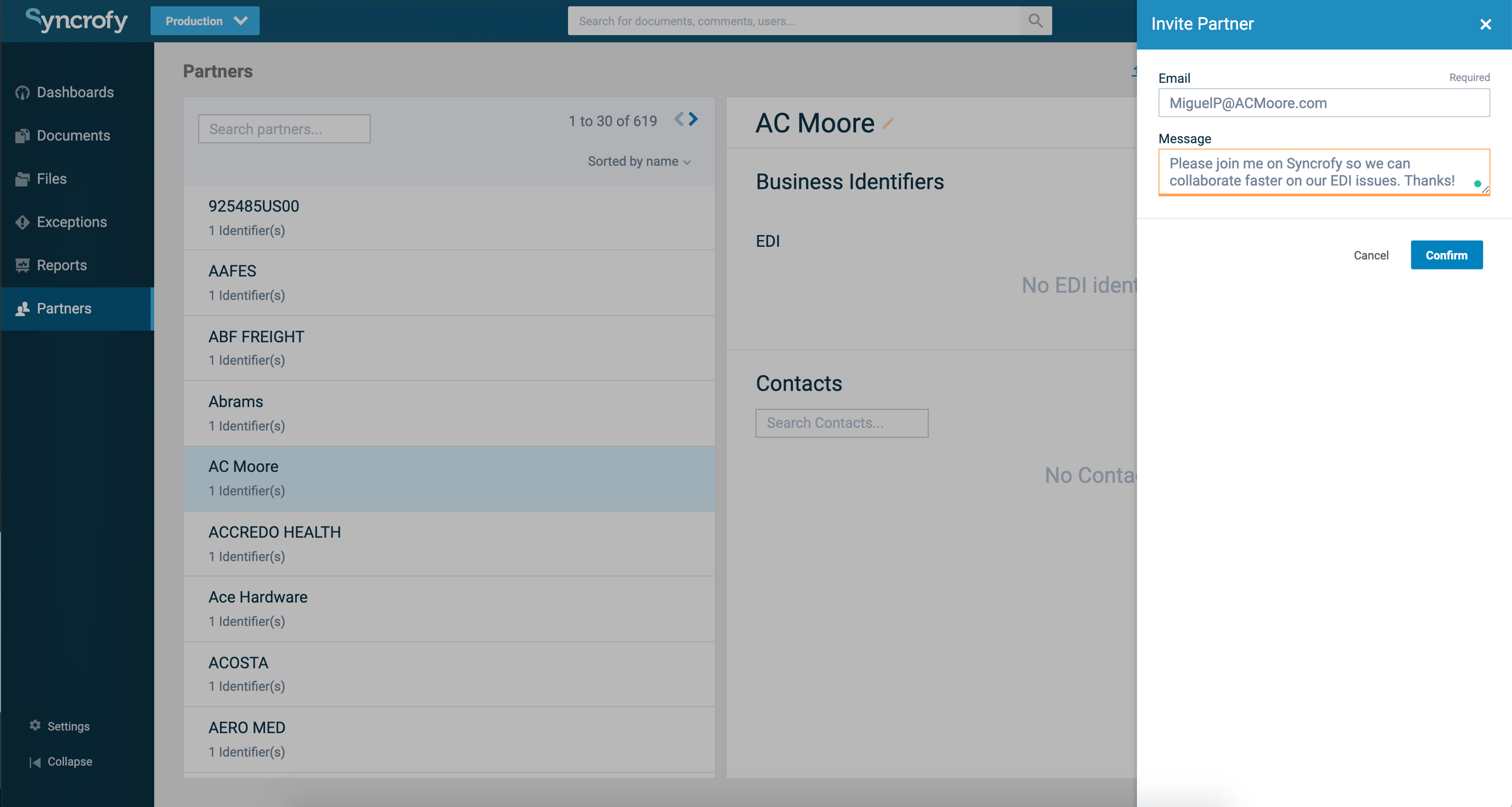 Overall, Syncrofy was able to help streamline their entire ERP migration process. It helped them manage the process by giving them the visibility they needed to make a smooth and quick transition.
To learn more about the power of Syncrofy, please visit www.coenterprise.com/syncrofy.com.
Subscribe to our resources!
Sign up to receive our latest eBooks, webinars, blog posts, newsletter, event invitations, and much more.